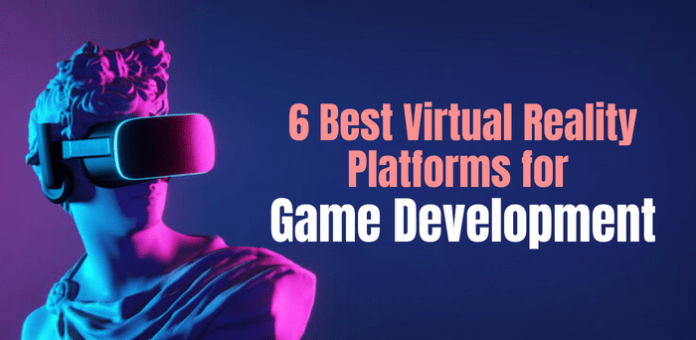 A Virtual Reality game or VR game is a type of video game that is played on VR hardware. Most VR games are played by using a head-mounted display unit or a headset with stereoscopic displays. Here, a gamer can interact with a 3D environment with the help of a VR headset. This makes VR a lucrative opportunity for game developers. With lots of fun and there are plenty of creative opportunities which don't require a lot of budget. Technological advancements in VR space have made it easier to develop a game.
To develop a VR game, there are many virtual reality tools that can be used by you but choosing the right VR platform may be a difficult task, and sometimes it can be tough to know where to start. For virtual reality software development, we have consolidated a list of what we think are the top 6 tools to help you get started.
Top 6 Virtual Reality Platforms for Game Development
As the demand for VR games is increasing day by day, then VR platforms are also in high demand. Developers are looking for user-friendly platforms where they can develop and enrich their games with advanced and innovative features and functions. That's why we have prepared a list of the 6 best VR platforms that can be used to develop your games. 
#1 Unity 3d
It has a flat learning curve that's why it can be used by both beginners and professionals. Basically, it supports three development languages such as c#, UnityScript, and Boo. It is counted as the easiest way to get started with Unity 3D Game Development Company and doesn't compromise the quality of the game.
Unity 3D has a huge 3D asset store, and you can easily get the 2D, and 3D models, SDKs, templates, and various virtual reality tools that you can directly import into your game. For VR-based games, the most prominent tool is the VR toolkit. So, when you don't want to spend time and effort on building a character model from scratch, then you can easily pick one from the asset store. This process really helps you to start the game development process in an efficient way. Here, some assets are free and some are paid.
Unity supports all the platforms such as PC, web, mobile, and console and in free versions, Mac OS X, Android, iOS, Windows, and other mobile platforms are supported and in the paid version, it supports Nintendo Wii, Xbox 360, and PlayStation. All HMDs such as Steam VR/Vive, Playstation VR, Gear VR, Microsoft HoloLens, Oculus Rift, and Google's Daydream View are supported by it.
#2 Unreal Engine 4
The learning curve of Unreal Engine 4 is steep and that's why it is suitable only for professionals. It offers only C++ language for development. This engine has some of the most exceptional graphics and features. For Virtual reality, this engine has an advanced cinematics system, advanced lighting capabilities, and a pipeline offering 90 Hz stereo framerate or faster at high resolutions. For scaling from simple to detailed scenes, characters, and environments are also there.
Like Unity, Unreal Engine 4 also comes with an asset store, where Unreal offers blueprints, animations, code plugins, props, environments, and architectural visualization. Like any other tool here, some assets are paid while some are free. But the documentation provided by this engine is not as rich as that provided by Unity and it comes with live training streams on Virtual reality game development.
#3 CryEngine
C++, Flash, Lua, and ActionScript languages are supported by CryEngine. This engine has a steep learning curve and you need to have a strong command of languages. Like any other game development platform, it also offers you an asset store and tools like 3D modeling, sounds, scripts, animations, and many more. But this engine is not as rich as other stores are, that's why it becomes difficult for beginners. Here, an online forum also helps you in the virtual reality game development journey.
#4 Blender
Blender is totally free and its learning curve is flat, that's why it is suitable for both beginners and professionals. Basically, it is a 3D graphics software that is not only for 3D modeling but also supports the 3D pipeline such as animation, simulation, rigging, motion tracking, rendering, video editing, and game development.
Here, a built-in powerful path-tracer engine called cycles offers stunning ultra-rendering, PBR shaders, real-time viewport preview, and HDR lighting support as well as VR rendering support. This tool also has a solid community of developers and offers workshops, tutorials, and courses on character modeling, character animation, and blender fundamentals.
5 Amazon Lumberyard
It is known as the fastest tool for virtual reality software development and totally free with no subscriptions, royalties, or seat licenses. You only need to pay the AWS fees for the AWS services that you are using. It is based on CryEngine's architecture, and is counted as the powerful cross-platform game engine that helps you to create the HQ games, and connect your games to the vast storage of the AWS cloud, and fans can engage on Twitch.
Amazon Lumberyard gives speed to virtual reality development with the VR preview function. Here, game developers make VR-specific adjustments and level the designs right in the editor, which saves a lot of time.
6 AppGameKit
With the help of this tool, even beginners can develop their VR-based games in an easy way. Here, AppGameKit-VR makes you able to quickly code and build apps for multiple platforms with the help of the AGKs BASIC scripting system. You can easily add VR commands to the core AppGameKit script language, which delivers an immersive VR experience. Here, you can also allow full development control for head-mounted displays, touch devices, and leap motion hand tracking.
Final Word : After reading this article, you can easily know the top 6 virtual reality platforms for game VR software development. There is a wide range of platforms for game development but you should go with the above-given tools for developing your game in an easy and faster way. VR games are in high demand and you can also grab this opportunity by introducing your own VR game for that, you can take the help of a virtual reality game development company.