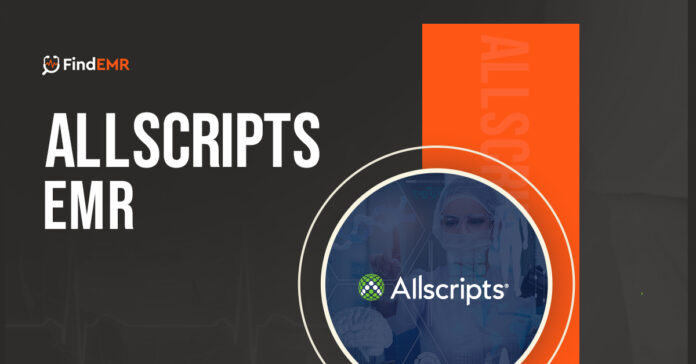 Allscripts EHR is a software solution that can be used in medical practices to help patients manage their health. Allscripts is a publicly traded American company that provides electronic health record technology and practice management to healthcare providers. Its products include the Allscripts Professional EHR and eClinicalWorks.
Allscripts EHR
Allscripts EMR Software is a complete electronic health record system that allows a healthcare provider to create, maintain, and share patient information. It is also a highly customizable program. It includes features like electronic prescribing, patient portals, referrals, and reporting and analytics. The company has been in business for over 30 years and has more than 7000 employees. Its EHR is used by more than 333,188 physicians. It also features a patient portal that connects all patient care providers in one place.
Allscripts EHR is a publicly traded company that has evolved from a leading electronic prescribing company into a leader in population health and precision medicine. In addition to its EHR, Allscripts offers practice management solutions, third party applications, and other products and services. Unlike other EHR providers, the company does not heavily promote an EHR specifically for a specific specialty, but instead offers TouchWorks EHR for multi-specialty physicians.
Read more – Superfoods You Should Swear by for Healthy Skin
Professional EHR
Allscripts Professional EHR helps ambulatory practices manage their practices better and connect with other physicians and payers. Its one-click templates and powerful clinical tools make it easy to keep patients and providers connected. Allscripts also offers a Revenue Cycle Management service that helps practices gain control of the revenue cycle and achieve better results.
Allscripts Professional EHR also includes the ePrescribe desktop web application, which allows physicians to prescribe medication over the internet. This streamlines the prescription, diagnosis, and dispensing process. It also supports allergy and interaction tracking. The system is web-based and hosted on secure servers from Allscripts. It also offers integration with labs, scheduling, and patient health records.
e-Prescribe
With the release of Allscripts ePrescribe EHR, doctors can now submit electronic prescriptions to patients through a web-based interface. This solution is not available as a mobile app, but is relatively easy to use and train staff on. The Allscripts ePrescribe EHR is available free of charge to licensed prescribers.
The company's ePrescribe EHR is certified to comply with Meaningful Use rules. If you want to comply with Meaningful Use requirements, Allscripts offers an EHR with a Meaningful Use package that is typically subscription-based. The company also promotes an Open platform, and was among the first in the EHR industry to introduce this concept in 2007. It is dedicated to being a leader in the field, and offers a Developers Program for developers to create healthcare applications.
Allscripts integrate with eClinicalWorks
While there are several EHR solutions on the market, Allscripts eClinicalWork's primary strength is its outpatient functionality. It is capable of managing patients' medical history, lab results, and insurance eligibility. In addition, the eClinicalWorks platform is EHR Certified and offers meaningful use compliance. However, eClinicalWorks does not yet support the integration of registries, although it is working toward this goal.
The eClinicalWorks EHR system features ICD-10 compliance and secure cloud handling. The software includes a touch-friendly interface and features for searching and patient management. The company offers free webinars and videos for users. Furthermore, it offers disaster recovery and 24×7 support. Overall, Allscripts eClinicalWork EHR is an excellent option for health care providers. It is priced competitively and offers numerous features to make health records and patient data more accessible to physicians and patients.
Practice Management
Allscripts is a publicly-traded company that offers EHR software to physicians, hospitals, and other healthcare organizations. Founded in 1982, Allscripts is now a leader in electronic health records for primary care practices and specialty groups. It also offers practice management tools and third-party applications. While the company does not heavily promote one product, it does offer several different EHR options for different types of practice settings. Its flagship TouchWorks EHR is geared toward large multi-specialty physician practices.
Practice Fusion was once worth $1.5 billion, and had hoped to go public. Eventually, it was sold to Allscripts for a $100 million purchase price. The company had projected growth and raised $157 million in equity from investors, but a Department of Justice investigation scared off its investors and trampled its value.
Healthcare
With Allscripts EHR software, physicians can integrate remote patient monitoring devices with the Allscripts EHR to supplement their workflow. These cellular-enabled RPM devices send biometric readings straight to the patient's chart. These readings are then accessed by care professionals for analysis and clinical decision making.
TimeDoc Health partners with hundreds of healthcare providers to deliver best-in-class care management programs and technology to improve patient outcomes. Its integrated virtual care solutions address patient adherence, appointment scheduling, and prescription management. Additionally, its EHR integration allows providers to offer behavioral health coordination services to patients.
Also Read About – Is Wearable Computing Technology the Future?